DEDICATED TO QUALITY
YOUR CERTIFICATION IS GOOD FOR THREE YEARS
The mission of Beef Quality Assurance (BQA) is to promote best management practices for cattle producers in an effort to strengthen consumer confidence in beef as a wholesome food product.
As a beef food producer, your livelihood depends on securing the consumer's trust. It doesn't matter whether your herd is large of small. Meat scientists estimate there are 542 potential consumers just for the steaks and roasts of a single beef animal. Your management at the cow-calf and stocker level makes a significant difference in whether or not those 542 consumers have a good, wholesome eating experience.
BQA is not about spending more money or buying into a here-today, gone-tomorrow trend. These proven beef quality practices are just better methods of doing the same jobs you're already doing. The main focus of the program is food safety. Eliminating residues, blemishes and foreign objects is critical to maintaining consumer confidence and acceptance of beef as the protein of choice in their diet.
ONLINE CERTIFICATIONS – CLICK HERE
With 24/7 access to the online courses, you now have the opportunity to learn and get certified when and where it works best for you. Instill consumer confidence in the beef industry and commit to high-quality beef. An online BQA certification takes only an estimated 2-3 hours to complete. Get certified today!
IN PERSON CERTIFICATIONS – CONTACT US
I can't begin to express the impact that your presentation made on our region. The evaluations showed that your information was extremely valuable and captured the audience. I am very thankful for you to take the time out of your busy schedule to come present at this event. Between in-person and zoom attendees, we had an audience of around 70 individuals!  Again, thank you and I appreciate your support in my efforts to bring more awareness and resources to my region. I hope to continue to work with you in the future …".  BQA Sponsor and Host for In-Person / Virtual Training November 2021
MT BQA Webinar Recording – 11/17/2021 – VIEW HERE
MT BQA Webinar Recording – 10/20/2021 – VIEW HERE
MT BQA Webinar Recording – 10/6/2021 – VIEW HERE
Sorting Pairs Simplified
The Bud Box on Horseback
The Bud Box on Foot
Access manuals, assessments, videos, and more to help you be BQA-ready!
BQA National Manual
Formalized training materials which support the efforts of all state BQA coordinators to train their beef producers on the topics of BQA.
BQA Field Guide
An interactive quick reference guide for cattle producers to find exactly the BQA information they are looking for.
Antibiotic Stewardship for Beef Producers
Responsible antibiotic use is important to ensure that animal health technologies remain viable for the beef industry. It is key that judicious use protocols are developed so that animals are never marketed with residues and that cattlemen responsibly treat sick cattle.
Cattle Industry Guidelines for the Care and Handling of Cattle
Cattlemen have long recognized the need to properly care for the animals under their care. This informative brochure illustrates sound animal husbandry practices to help farmers and ranchers ensure the wellbeing of the cattle under their care.
BQA TRANSPORTATION MANUAL
This is the official Transportation Manual of the Beef Quality Assurance program and includes the most current set of key practices, guidelines, and suggestions for providing thoughtful and responsible cattle management while in transport. The material in this manual serves as a helpful resource and serves as the foundation for training and certification programs offered nationally and by many states.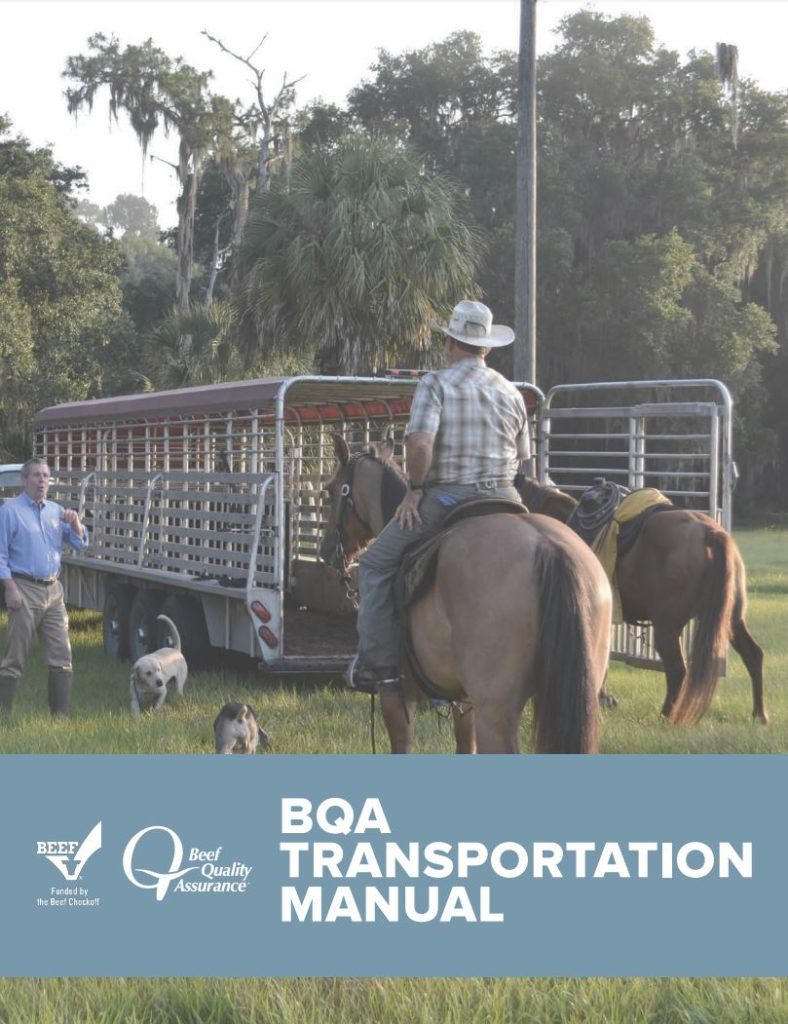 DOWNLOAD 
ASSESSMENT RESOURCES
BQA FEEDYARD ASSESSMENT
Booklet designed to help all cattle feeders benchmark their operations in areas such as animal welfare, cattle handling, record keeping, etc.  Created with the help of  representatives from the major cattle-feeding states.
BQA STOCKER SELF ASSESSMENT
A companion booklet to the BQA Feedyard Assessment.  Designed to help all stockers benchmark their operations in areas such as animal welfare, cattle handling, record keeping, etc. Created with the help of representatives with extensive experience with stocker operations.
BQA COW-CALF ASSESSMENT
Booklet designed to help all cow-calf producers benchmark their operations in areas such as animal welfare, cattle handling, record keeping, etc.
BQA DAILY BIOSECURITY PLAN FOR DISEASE PREVENTION TEMPLATE
A template to help cattle producers create a customizable biosecurity plan for their operation. The template is available digitally as a fillable PDF or can be printed out for handwritten plans. Created in partnership with the Secure Beef Supply Plan.
EXAMPLE BIOSECURITY PLAN – GARCIA RANCH
GROUP TRAINING FORM
ANIMAL MOVEMENT LOG
VEHICLE/EQUIPMENT ENTRY AND DELIVERY LOG
PEOPLE ENTRY LOG
VETERINARIAN-CLIENT-PATIENT RELATIONSHIP FORM