Do you have cows that are open when they are 3-5 years old?
This is when they are weaning their best calves and starting to pay for themselves. Did you know that these are 2 areas where Gelbvieh Excel – Fertility & Longevity?
Are your calves not weaning enough pounds?
We all understand Crossbreeding and Hybrid vigor but are we using it?
Try a Gelbvieh & Balancer Bull!
Gelbvieh and Balancer cattle are well known throughout the beef industry for their maternal strengths and superior growth. With attributes such as more pounds of calf weaned, added fertility, greater cow herd longevity and heavier carcass weights, just to name a few, Gelbvieh and Balancer offer genetics that work for the commercial cattle business.
Balancer cattle are registered hybrid seedstock that have documented pedigrees and expected progeny differences (EPDs). Balancer animals are 25 to 75 percent Gelbvieh with the balance of Angus or Red Angus. Balancer cattle combine the Gelbvieh growth, muscle, leanness, fertility, longevity and low yield grading ability with the carcass qualities of Angus.
Balancer cattle offer a simple and powerful way to maintain hybrid vigor and a profitable blend of British and Continental genetics without a complicated crossbreeding system. These cattle fit well into all aspects of the beef industry including commercial cow/calf operations and on the rail.
Mark your Calendar for Monday January 25th at 8:00 p.m. to watch the premier of American Gelbvieh Association's new episode of the American Rancher on RFD-TV (Dish Channel 231 and DirectTV Channel 345). The episode will rerun on Tuesday, February 26, at 12:00 a.m. CST and again on Sunday, March 2, at 11:00 a.m. CST.
The P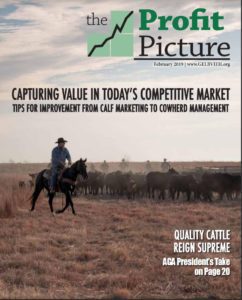 rofit Picture is the commercially-focused magazine that is published by the American Gelbvieh Association twice annually – February and September – in place of Gelbvieh World. With a circulation of 40,000, The Profit Picture focuses on issues important to producers in all segments of the beef industry.
Click Image to read the most recent issue.